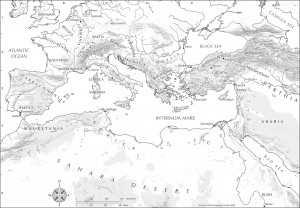 It was a gorgeous day to visit the nation's capital, even with an inch of snow on the ground. Then again, any day that I get to visit the Library of Congress and use my shiny library card is a good day. My visit today was a mission to find a map of the Roman empire during the Augustan Age for the inside of Song of the Nile, my second historical novel, which will be released from Berkley Books late in 2011. In this book, Cleopatra Selene travels much of the Mediterranean as a client queen and I'd like to give readers a visual sense of her world.
As it turns, locating a public domain map that displays Mauretania, Numidia, Africa Nova, Rome, Gades, the Isle of Samos, Athens, Eleusus, Cappadocia, Parthia, Egypt and Meroe as they existed in Selene's day is turning out to be a tricky affair. That's why I turned to the lovely Colleen Cahill who works in the Library of Congress and has taken a special interest in speculative fiction. Colleen found some maps for me and invited me to come down and have a look.
This morning I made the drive into DC, parked at Union Station. Before I could grab a cab, I was accosted by the friendy ladies at the Godiva store who forced a free piece of delicious chocolate upon me, so I took a little coffee break while admiring the scenery. (If you haven't seen the holiday decorations at Union Station, you're missing something!)
After I blissed out on white lights and holiday cheer, I went to the Library of Congress and the map room–which is Geek Heaven. Imagine being surrounded by enormous globes throughout the ages and people whose entire job it is to know stuff. Colleen was in a meeting, so I settled in front of the maps she'd pulled for me and held my breath. Some of them were so old that my hands actually shook a little bit when I touched them.
The good news is that the maps were spectacular–some of them were even in Latin. The bad news is that none of them would have worked for the book. One of them was so detailed that if we shrank it down to trade paperback size, it wouldn't be readable. The others weren't quite right–either because they depicted the empire after Selene's death or before she became queen.
Fortunately, one of the experts there pointed me in a new direction; I may be able to find a free blank map of the region and put my own labels on things. Unfortunately, as a visual artist…I make a great writer. But hey, I'm open to new adventures, so we'll see how this pans out.