Tasty Book Tours is Pleased to Present…
AMERICA'S FIRST DAUGHTER
Stephanie Dray & Laura Kamoie
Releasing March 1st, 2016
In a compelling, richly researched novel that draws from thousands of letters and original sources, bestselling authors Stephanie Dray and Laura Kamoie tell the fascinating, untold story of Thomas Jefferson's eldest daughter, Martha "Patsy" Jefferson Randolph—a woman who kept the secrets of our most enigmatic founding father and shaped an American legacy.
From her earliest days, Martha "Patsy" Jefferson knows that though her father loves his family dearly, his devotion to his country runs deeper still. As Thomas Jefferson's oldest daughter, she becomes his helpmate in the wake of her mother's death, traveling with him when he becomes American minister to France. And it is in Paris, at the glittering court and among the first tumultuous days of revolution, that she learns of her father's liaison with Sally Hemings, a slave girl her own age.
Patsy too has fallen in love—with her father's protégé, William Short, a staunch abolitionist intent on a career in Europe. Heartbroken at having to decide between being William's wife or a devoted daughter, she returns to Virginia with her father and marries a man of his choosing, raising eleven children of her own.
Yet as family secrets come to light during her
father's presidency, Patsy must again decide how much she will sacrifice to
protect his reputation, in the process defining not just Jefferson's political
legacy, but that of the nation he founded.
Pre-Order Now
LAURA CROGHAN KAMOIE is a historian specializing in colonial and revolutionary America, Virginia history, and the history of slavery. She holds a M.A. and Ph.D. in American history from The College of William and Mary and has published two historical monographs, including Irons in the Fire: The Business History of the Tayloe Family and the Virginia Gentry, 1700-1865 (University Press of Virginia, 2007). Laura is an Associate Professor of History at the U.S. Naval Academy. In her fourteen years of college teaching, she has taught numerous graduate and undergraduate courses on colonial America, revolutionary America, African-American Slavery, as well as seminars on Thomas
Jefferson.
As LAURA KAYE, she is the New York Times and USA Today bestselling author of over a dozen titles in contemporary and paranormal romance. Her books have won numerous industry awards, including the EPIC eBook Award, the Golden Leaf award, the PRISM award, and the HOLT Medallion Award of Merit. She is a frequent panelist at national writing conferences and a frequent instructor of craft and social media workshops. Laura lives just outside the nation's capital with her husband and two young daughters.
Find Laura Here
STEPHANIE DRAY is a bestselling and award-nominated author of historical women's fiction. Her series about Cleopatra's daughter has been translated into six different languages, was nominated for a RITA Award and won the Golden Leaf. As STEPHANIE DRAVEN, she is a national bestselling author of paranormal romance, contemporary romance, and American-set historical women's fiction. She is a frequent panelist and presenter at national writing conventions and lives near the nation's capital. Before she became a novelist, she was a lawyer, a game designer, and a teacher. Now she uses the stories of women in history to inspire the young women of today.
Find Stephanie Here
Let me tell you what I regret about Jeannie Lin's THE LOTUS PALACE. I regret every day that I didn't read this book. Now, understand that I wanted to read it. I wanted to read it so much that I somehow own three copies–one in paperback, one for the Nook and one for the Kindle.
Now I think I didn't buy enough of them.
So what took me so long? Part of it was the fact that I've let myself get into that writer-funk where you think you don't have time to read. A recent convention where I heard Sylvia Day speak convinced me that was foolish. Writers don't just write. They need to read. It's the fuel and the tool that opens up our minds to new techniques and approaches.
And THE LOTUS PALACE does all that not just with its artistry, but by smashing romance genre expectations and drawing the reader into an extraordinary historical fiction world. This is a love story between a man and a woman, make no mistake. But the loving brushstrokes with which the author paints the bright world of courtesans and scholars in Tang Dynasty China speaks to a different kind of passion.
THE LOTUS PALACE pulls the reader into a murder mystery in a forgotten time that is both alluring and painful. I loved every detail. The lamps, the flowers, the tea, the pots of cosmetics, the silk sashes, the dragon boats. The way this world came alive was as sweet and surprising as a mouthful of pop rocks.
And that's to say nothing of the pleasure of learning all the cultural details that are woven effortlessly into the fabric of the plot. The heroine, Yue-ying, is a woman with a marked face who wants to save her sister from being convicted of a crime she didn't commit. She is helped in this endeavor by a supposedly hapless scholar who is smitten with her.
You probably think you have heard this story before. Or that you know how it will unfold. You don't. Yue-ying isn't a fiesty romance heroine with a wit that makes men forget about her marked face. Neither is she a sad mopey cinderella in the ashes, in need of rescue by a hero who sees her true beauty.
She is actually a rather quiet person of majestic dignity, housed in the body of a lowly serving girl. Reading about this former prostitute as she holds onto an innate belief in her own worth–in spite of her own cynicism about the world and her place in it–is captivating. In truth, even love itself, freely offered by a patient and earnest man of position, is a challenge to her sense of worth.
These are people who work hard for their happy ending.
I know Jeannie Lin–have worked with her and read her books before–so I know that she's talented. I knew I would enjoy the book when I read it. What I didn't know is that it would be a new level of awesome from her. Be smarter than I was. Read this book right away.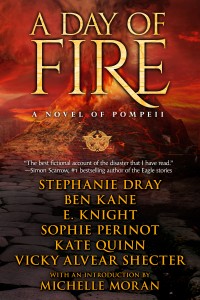 Happy New Year! I'm pleased to let everyone know that for a limited time, my fabulous co-authored six part novel, A DAY OF FIRE is available for only pennies. It's so good, y'all! It's been getting rave reviews, and has been chosen for several 'Best Read of the Year' lists. I couldn't be prouder. I'd be honored if you'd help spread the word!
The wonderful Megan Brett did me and my co-author a solid last weekend and went to UVA to help us find a letter in which one of Patsy Jefferson's suitors is mentioned. One William Short. I started to get excited when I saw this.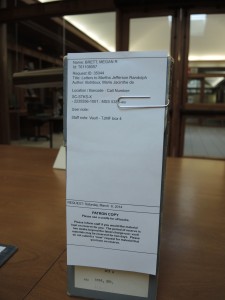 Then the hairs on my nape started to rise when I saw this. OMG, a real letter from 1789, the autumn after Patsy Jefferson and her family left Paris, at the start of the French Revolution. So awesome. So cool. I want to touch it. I want to TOUCH IT….
Then reality struck me. It's in French! And I can't read French. Anyone out there want to help us translate?
Page One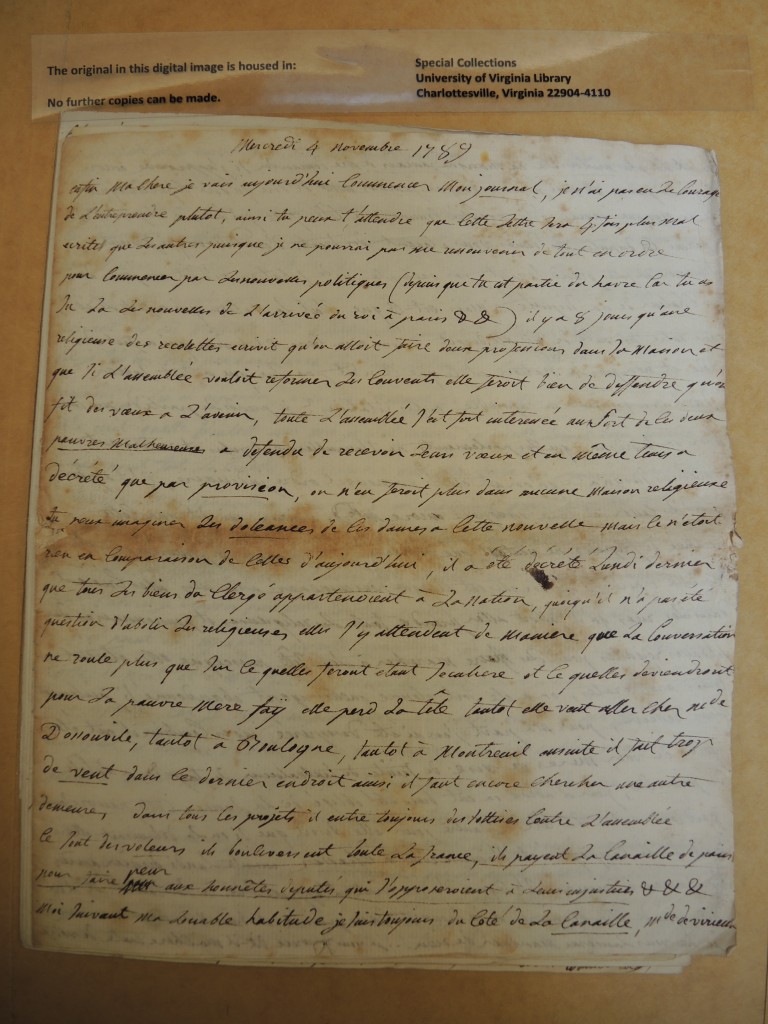 Page Two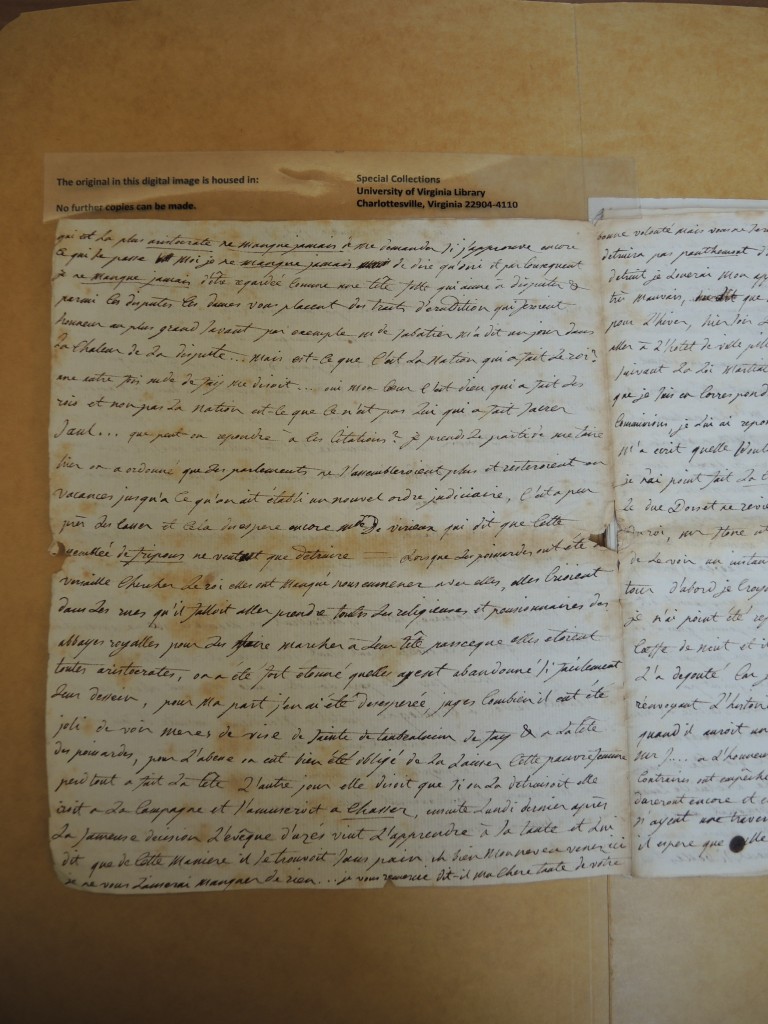 Page Three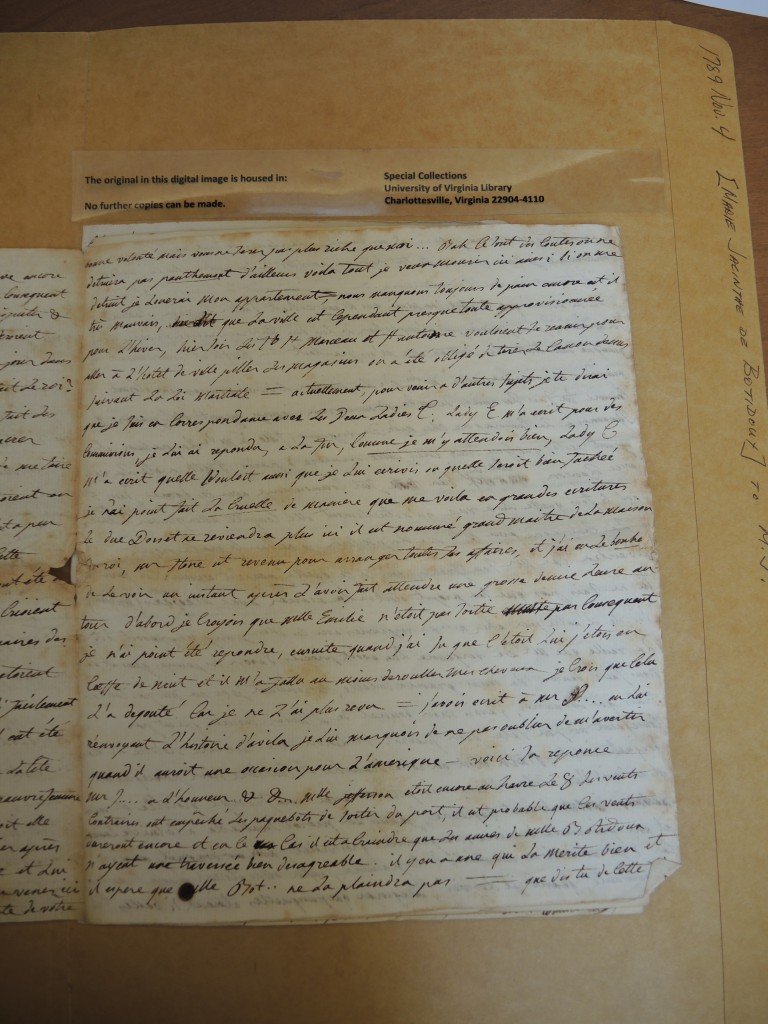 Page Four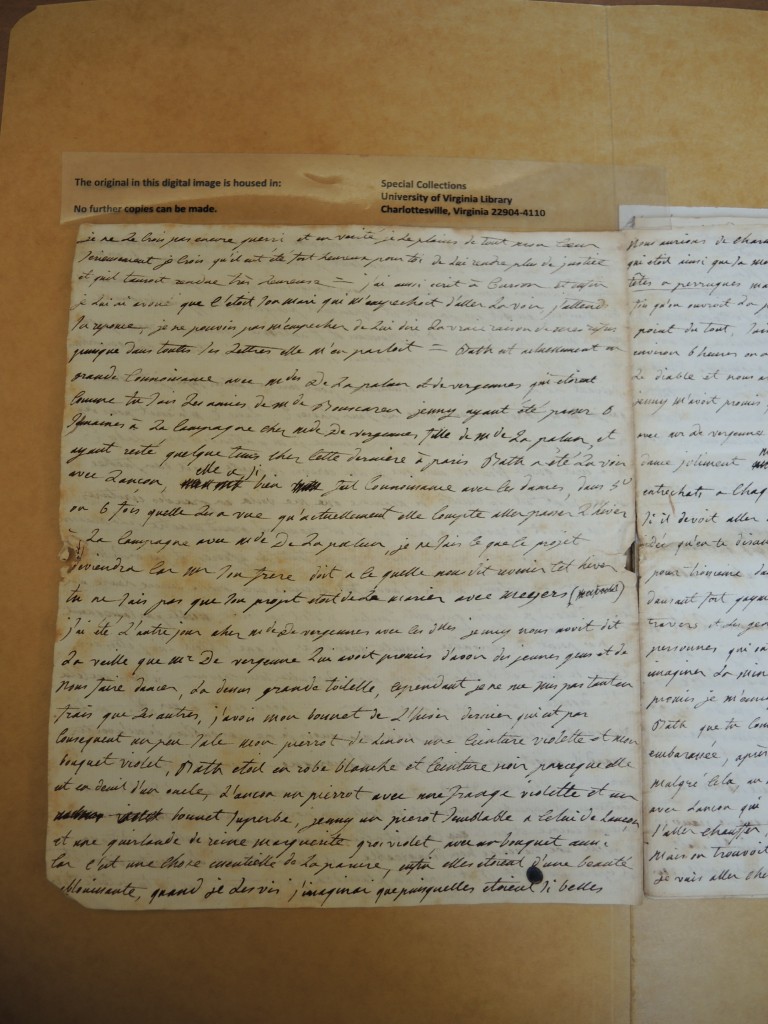 Page Five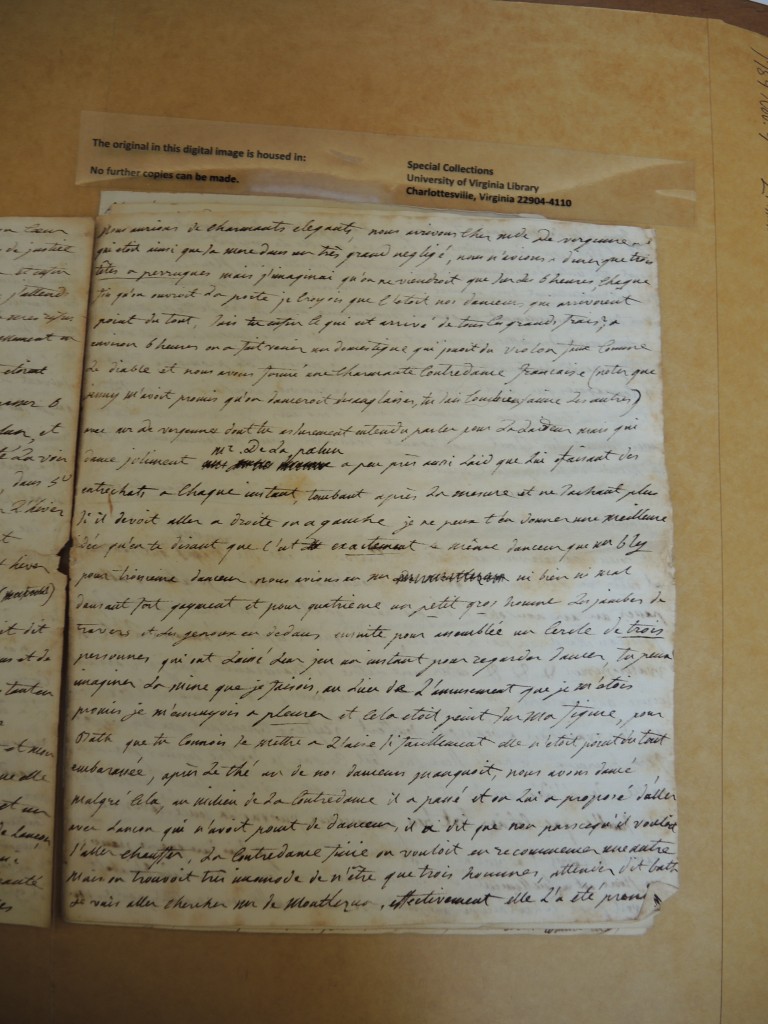 Page Six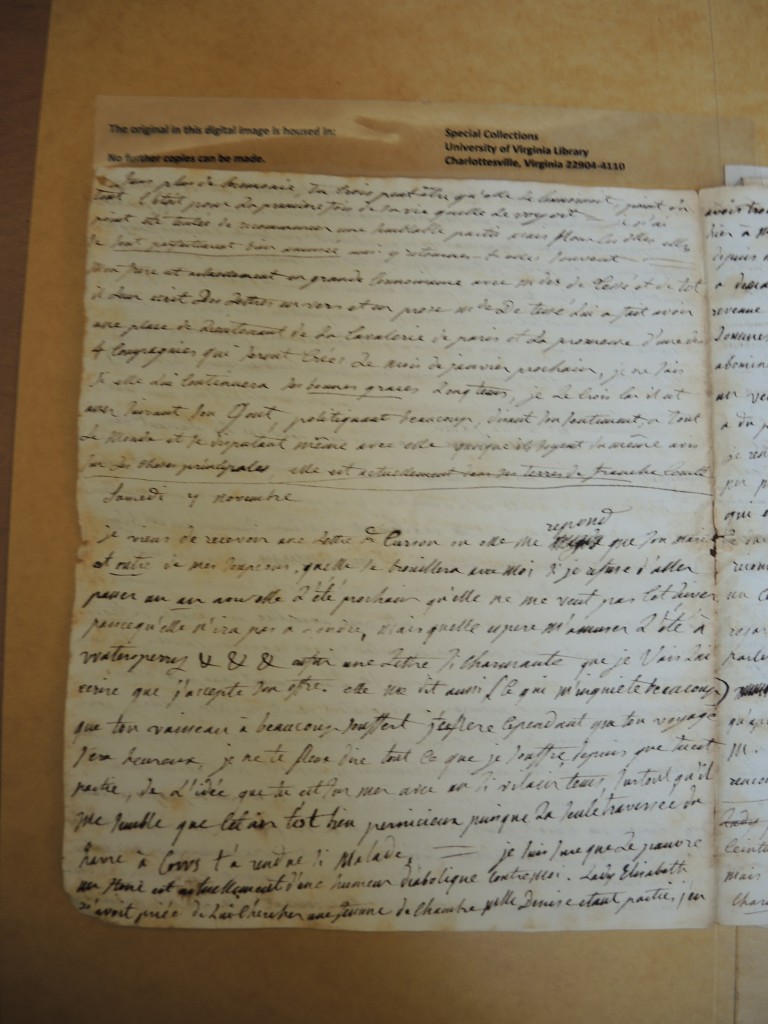 Page Seven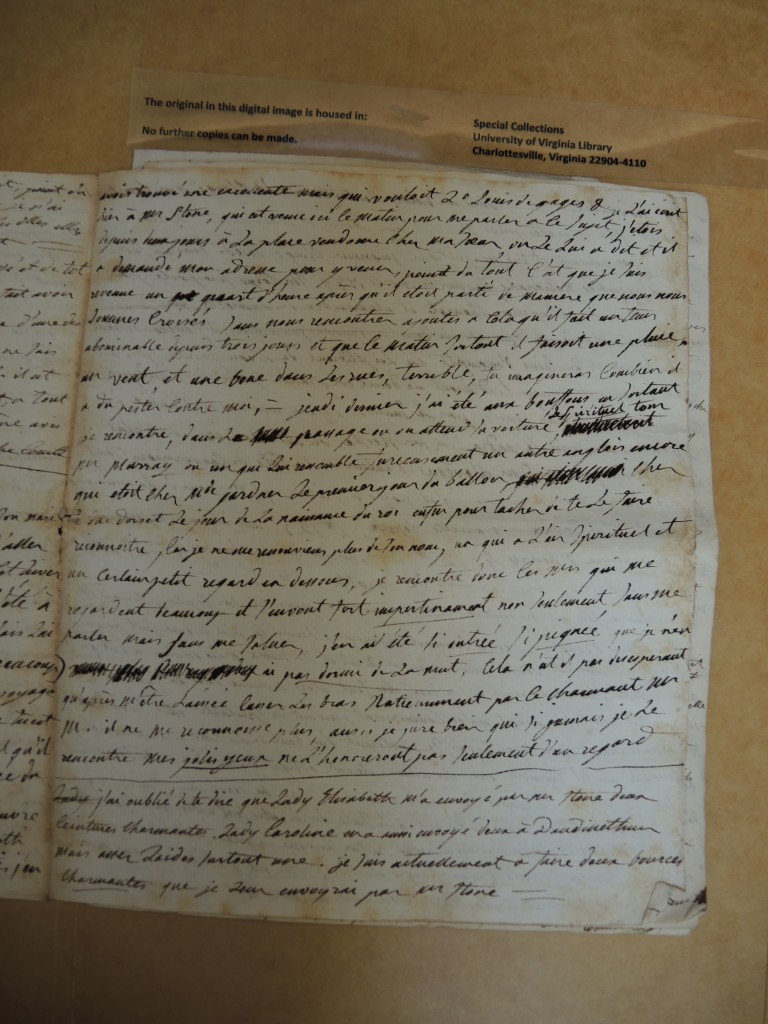 Page Eight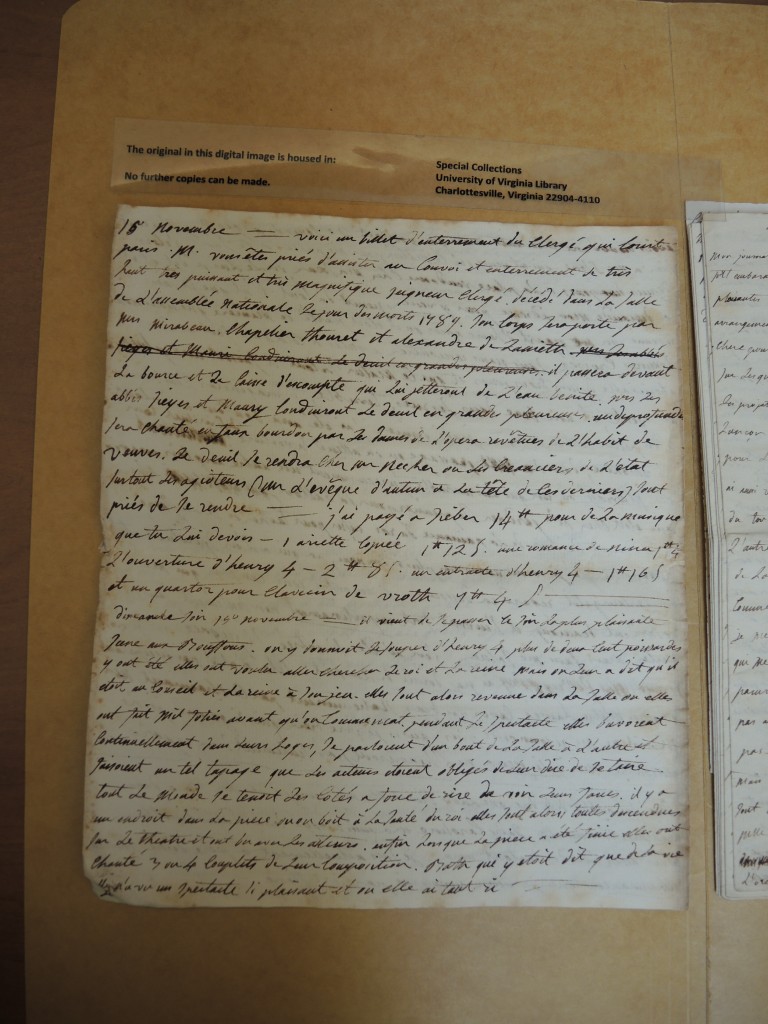 Page Nine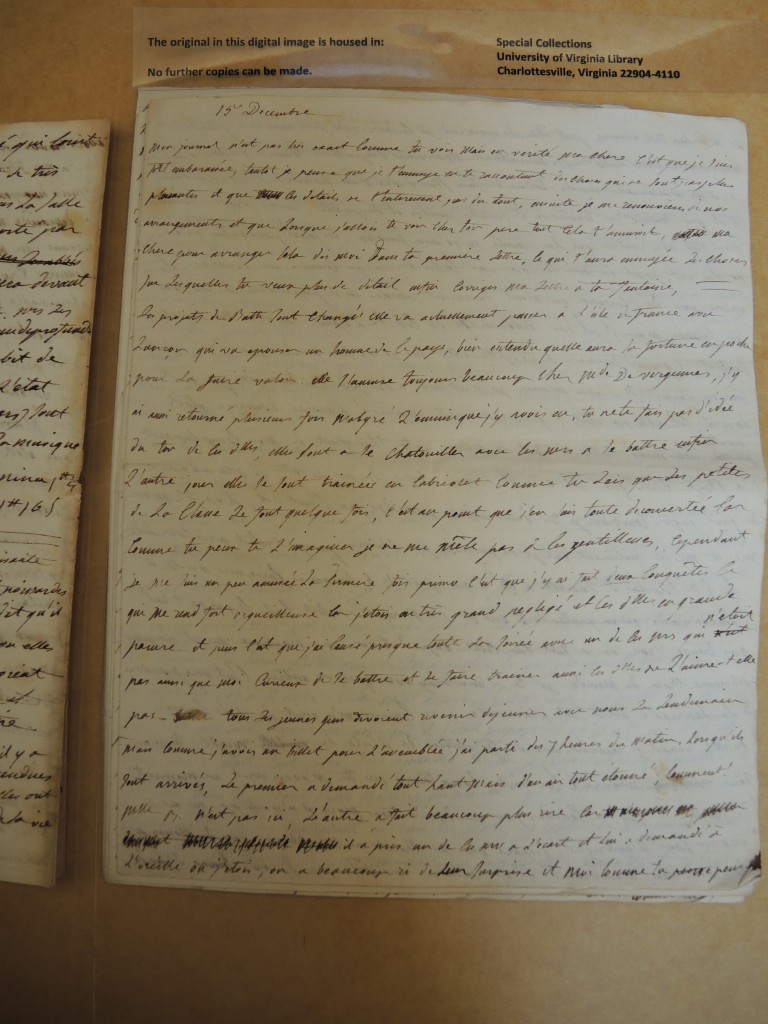 Page Ten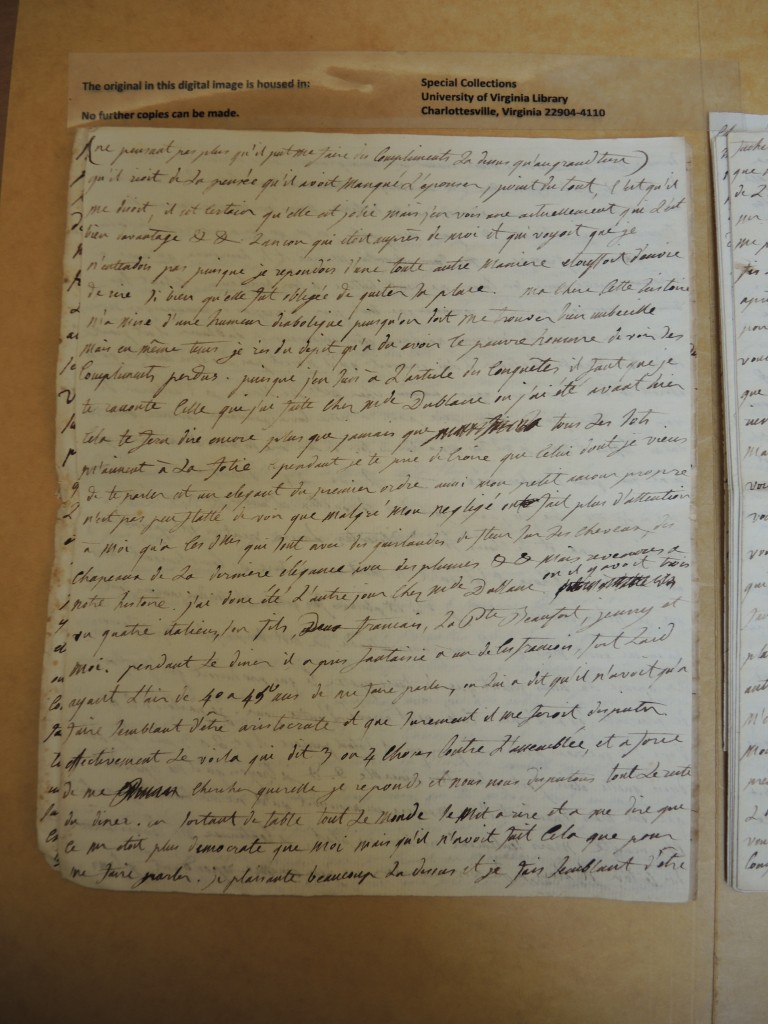 There are more pages to this letter, but I figure beyond ten, if Marie hasn't mentioned William Short, we're in trouble

I'm mostly unqualified to be giving career tips–better to ask someone who has had a long and storied historical fiction career like Margaret George, Bernard Cornwall, Diana Gabaldon, Wilbur Smith, Philippa Gregory, etcetera. But the request comes up frequently enough that I've gotten it in my head to write down a few humble scribbles. Enterprising folks like Chuck Wendig write lists of 25 things you should know. I'm not that enterprising, so I'm going to come up with ten. If I come up with another ten later, I'll write 10 More Tips for Aspiring Historical Fiction Authors. Until then, here we go.
1. Be a History Geek. Writing historical fiction has a lot in common with writing fantasy. In both cases, you're using your imagination to build a world that is totally alien to the modern reader. The difference is, or at least should be, that the historical world you're building has some basis in fact. And you're going to have to live in that world for the entire time you're writing the book, so you'd better love it! If you're not a history nerd, this career isn't for you. But if you're the kind of person that can't walk into the Library of Congress without getting a little weepy and blisses out when given the opportunity to paw at ancient maps, you're probably on the right track.
2. Read Historical Fiction. I could froth at the mouth like a pitchfork wielding French peasant at the number of aspiring authors who don't actually read anything. Instead, I'll temper my remarks here to point out that you can't understand the market you're writing for unless you actually read books that are being sold in that market. It would be like opening a Chinese restaurant without finding out if there are any other Chinese restaurants on the same street, and whether or not they cook in the same style as you do, or if there's something special in terms of price or menu that you can offer consumers.
3. Love Historical Fiction. Every now and then, an artist will come along and upend an entire genre and all its expectations. If you're that artist, rock on. You don't need any tips from me. The rest of us poor schlubs, however, are constrained by genre expectations. So we'd better love what we're writing. More specifically, we'd better love the conventions, constraints and peculiarities of this specific genre. I am fortunate enough to be published in a different genre under another pen name, and I have done the math. Because of the research involved, historical fiction requires more labor for the return than any other genre I can think of. (And those other genres almost all require research too, just sayin'.) So, if you're just writing historical fiction because you think it will make you rich…
4. Do Your Research. I'm a sucker for almost any sword-and-sandal flick, no matter how flawed. I watched every episode of THE TUDORS and loved it, even after throwing popcorn at the screen. After yucking it up with Kate Quinn about the wildly anachronistic costuming in the ridiculous show REIGN, I still secretly made plans to watch it. I love even the pastiche of history in fictional works. (I'm looking at you, SLEEPY HOLLOW.) So, I am not the history police and I'm not about to launch into a lecture about the dreaded mistoricals. All that said, what historical fiction readers love best is learning things. They love to be bewitched, immersed in the details a foreign time and place. To do that they need to trust you, as an author, not to break the spell. You can only wield this sacred literary magical power over them by knowing your stuff! That means taking the time to figure out what the crops were in ancient Mauretania, and how a census was conducted, and whether or not the uptight Romans actually ate breakfast. Don't be lazy and try to call it creative license. Readers will notice and punish you for it.
5. Know when to Stop Researching. My husband and my agent once staged an intervention to stop me from fermenting shell fish in my back yard in an attempt to reproduce the ancient process of making dye. I spent days and days hunting down the exact species of yellow hibiscus that blooms in autumn in ancient Mauretania. It's easy to get caught up in the research and fall down the rabbit hole. This is where deadlines are useful. You can spend ten years crafting the perfect historical tale–but I almost guarantee you that the time will not be well rewarded. At some point, it's better to publish an imperfect book. If you're rambling around your house, mumbling to yourself in Middle English, it's probably time to let go. At some point, you must write the book. So, just as a rule of thumb, I might say that more than two years of research and writing is too much. Or, less arbitrarily, I'd just say, don't be crazy and know when to back off!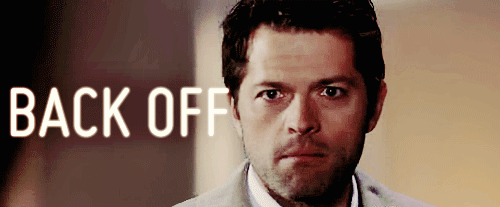 6. You're Not a Historian. Historians go to school, get to write fancy letters after their names, and are relied upon to tell the world what actually happened or could have happened, usually (but not always!) in the driest and least interesting way. They don't–or shouldn't–pick sides. That's awesome. But that's not your <bleeping> job as a novelist.  You need to get into some historical person's head. In short, you're going to pick a side, my friend. You're going to get all kinds of biased. You're going to dream about them. You're going to annoy all your friends with obsessive anecdotes. In fact, you're likely going to become an insufferable partisan. (I can, for example, intellectually, argue on behalf of Augustus against Cleopatra and Marcus Antonius. But my heart would never be in it, because I wrote three books about Cleopatra's daughter.) In short, you're going to cherry pick the facts–just like real people do when justifying their actions–to form a coherent narrative that entertains the reader and tells a story. Which is why even if you are an actual historian, when you're writing a historical novel, pretend you're not. Are there historical fiction authors who masquerade as historians? You betcha. And these posers should the object of our scorn and ridicule. Don't be that guy. Or gal. That's all I'm saying.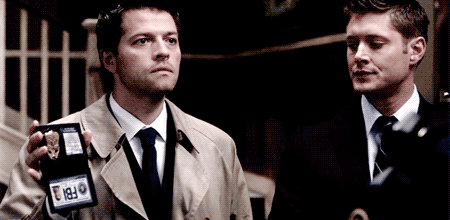 7. Don't be Tyrannized by the Facts. If the facts are inconvenient to your storyline, you can change them. Some of them, anyway. Yes, I said it. And before you muster the firing squad, let me explain. I said to do the research. You should, if only because you can't change the facts if you don't know what they are. Get the little things wrong and the reader is going to think you're either lazy, a moron, or both. If you change stuff, put it in an author's note. However, realize that changing historical outcomes will be looked upon with extreme hostility by the readership. Moving a battle by a few days, maybe you can get away with. Changing who won that battle? Yikes. How much you can change and get away with it, that's all a sliding scale. We can–and do–argue about that in historical circles all the times. But figure out where you draw your line in the sand and stick to it or you'll end up tying yourself in knots.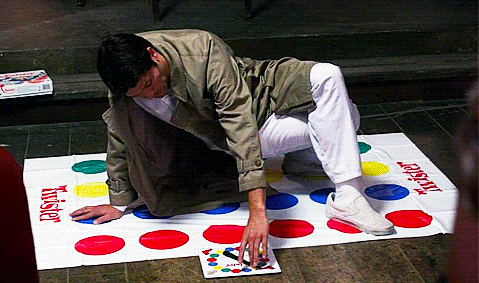 8. Know How Many Books You've Got In You. A lot of aspiring historical fiction authors come to the genre because they've discovered some neat story buried in their own genealogy. Or maybe they've come across a neat untold story of their town. This is valuable stuff, and I always get caught up in these tales myself. But if you've only got one historical novel rattling around in your brain, you might not want to pursue a career in this. You see, in the book industry, backlist is king. Are there authors who make a fortune off one book and never write another one? Sure. Harper Lee comes to mind. But if you're Harper Lee, again, you don't need tips from me. The truth is, a writing career these days is built on book after book, strung like beads on a string. And building an audience means that you can't easily switch around genres too much because readers are looking for a consistent experience from you. So if you don't have a bunch of ideas for stories already, you might reconsider.
9. Get a Critique Partner. This person probably shouldn't be your mom. To give you life, your mom pushed a red, squalling, ball of infant goo out into the waiting world like a watermelon through a straw. Do you think she wants to read something that will plague her with regrets for having done that? No! No matter how flawed your manuscript, your mom will make herself see brilliance in its dark twisty depths. So, you need to find someone else, in addition to your mom, to read your stuff. Someone who reads a lot of historical fiction. Someone who can tell you not just what's wrong with your stuff, but how to fix it. Troll the historical fiction community looking for this person and when you find them, treasure them forever.
10. Look for an Agent. Some of you may be thinking about self-publishing. Don't rule it out; in fact, I recommend that experienced authors try it. But to date, self-published digital books are not as much of a force in our genre as they are in others. That may change, but at present, the readership for historical fiction is primarily print which makes it harder for a debut historical fiction author to succeed in the realm of self-publishing. Consequently, you want your books in a bookstore. To do that, you're going to need a NY publisher. To publish with one of the Big 5, you're generally going to need an agent. To get an agent, your work is going to have to be publishable. And this is, to my mind, the biggest reason to seek out an agent. These are highly trained professionals who can best evaluate whether or not your book has some sort of parity with other commercial fiction in the genre. Note that I said look for an agent–not get an agent. It's perfectly possible that you just haven't found the right agent for you and you may pass on the offer of representation. An agent might do the same to you. She might not have had her coffee that morning. He might not like the font you used in your email. For whatever reason, an agent may ultimately pass on your project. But the process of searching may garner you lots of professional feedback, and give you some hint as to the interest in your subject matter, or give you a better clue as to when it's ready to show to the world.