About Stephanie…
STEPHANIE DRAY is a New York Times, Wall Street Journal & USA Today bestselling author of historical women's fiction. Her award-winning work has been translated into eight languages and tops lists for the most anticipated reads of the year. Before she became a novelist, she was a lawyer and a teacher. Now she lives near the nation's capital with her husband, cats, and history books.
Newsletter | Website | Twitter | Facebook | Media Kit
Speaking Fees
I am often asked to give talks, interviews, and media appearances about my books. And I often do it for free, because I love talking to readers! If you're interested in having me come speak or present before your group, I may be able to accommodate your request on the conditions set below.
Out of Town Appearances
Fee may be waived if event can be coordinated with my publisher or agent on a scheduled book tour. Otherwise please contact my Speaker's Bureau for fee information.
Local Appearances (Within 60 miles of Baltimore)
I schedule one free local appearance a month, on a first-come, first-serve basis with conventions, clubs, libraries, schools or book clubs. If I'm already booked up, as my schedule allows, I will negotiate a fee with your organization for an hour long presentation with a Q&A session. The fee may be higher for a power point presentation.
Skype Sessions
I schedule a Skype session a month for free on a first-come, first-serve basis to book clubs, libraries, or schools. If I'm already booked up, as my schedule allows, I charge $50 for a half-hour Q&A session or $100 for a half-hour presentation to be followed by Q&A. This fee is negotiable for libraries and and historical associations.
See Also
Media Appearances, Interviews and Talks
Awards
Other Accolades
America's First Daughter is a NYT Bestseller! - Thu, 16 Jun 2016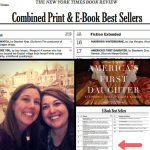 We are beyond thrilled and grateful to share that America's First Daughter hit the New York Times and USA Today bestseller lists today! You made this happen for us and THANK YOU does not begin to express the depth of our gratitude. We appreciate your support for us and this book so much! Thank you!  
America's First Daughter in its 7th Printing - Sun, 05 Jun 2016
Laura and I have been honored and amazed as readers across the country continue to devour America's First Daughter. This week marked our seventh printing in twelve weeks, and we're so proud. We're also very grateful, readers! Without you, we couldn't do what we do. And your reviews and notes of encouragement always help me […]
America's First Daughter is an HNS Editor's Choice - Sun, 28 Feb 2016
Laura and I are delighted that our novel on Thomas Jefferson's daughter was an editor's choice in the Historical Novel Society's reviews.