About Stephanie…
STEPHANIE DRAY is a New York Times, Wall Street Journal & USA Today bestselling author of historical women's fiction. Her award-winning work has been translated into eight languages and tops lists for the most anticipated reads of the year. Before she became a novelist, she was a lawyer and a teacher. Now she lives near the nation's capital with her husband, cats, and history books.
Newsletter | Website | Twitter | Facebook | Media Kit
Speaking Fees
I am often asked to give talks, interviews, and media appearances about my books. And I often do it for free, because I love talking to readers! If you're interested in having me come speak or present before your group, I may be able to accommodate your request on the conditions set below.
Out of Town Appearances
Fee may be waived if event can be coordinated with my publisher or agent on a scheduled book tour. Otherwise please contact my Speaker's Bureau for fee information.
Local Appearances (Within 60 miles of Baltimore)
I schedule one free local appearance a month, on a first-come, first-serve basis with conventions, clubs, libraries, schools or book clubs. If I'm already booked up, as my schedule allows, I will negotiate a fee with your organization for an hour long presentation with a Q&A session. The fee may be higher for a power point presentation.
Skype Sessions
I schedule a Skype session a month for free on a first-come, first-serve basis to book clubs, libraries, or schools. If I'm already booked up, as my schedule allows, I charge $50 for a half-hour Q&A session or $100 for a half-hour presentation to be followed by Q&A. This fee is negotiable for libraries and and historical associations.
See Also
Media Appearances, Interviews and Talks
Awards
America's First Daughter Nominated for Goodreads Choice Awards - Wed, 02 Nov 2016
It's an incredible honor that the book Laura Kamoie and I wrote together has been nominated for one of the best historical fiction reads of the year. We have very stiff competition and you should check out all the other wonderful books that ought to be added to your TBR pile. But we'd be delighted […]
A Day of Fire: Finalist for the HNS Indie Awards - Mon, 22 Jun 2015
I've been remiss in not mentioning this before now. However, with the Historical Novel Society Convention only days away, I wanted to review the many reasons that I'm excited to go. First and foremost amongst those reasons, of course, is the chance to meet with my tribe of historical-loving readers and writers. I've made so […]
Song of the Nile wins the Golden Leaf - Sat, 13 Oct 2012
I'm pleased to announce to my readers that SONG OF THE NILE won Golden Leaf Award this weekend at the New Jersey Romance Writer's contest, so if you've been wondering whether or not you'd like it as much as LILY OF THE NILE, this is a vote YES! Thank you very much, NJRW. You are […]
Fiction writer aiming for gold with 'Song of the Nile' - Thu, 12 Jul 2012
Great feature article on me and my work in the Baltimore Sun, penned by Sharon Rydell, Sbrydell13@aol.com. Thanks Sharon! Great things are happening in the life of Dray, who has been nominated by the Romance Writers of America for a RITA award, the highest awards accorded in the romance genre. "Song of the Nile," her second […]
Getting the Call: What It's Like to Be Nominated for a RITA Award - Tue, 27 Mar 2012
There are a few important calls that authors hope to get in their career. The first is from an agent. I got that call from the lovely and wise Jennifer Schober of Spencerhill Associates several years ago when she read Lily of the Nile: A Novel of Cleopatra's Daughter, told me that she loved it, […]
Other Accolades
America's First Daughter is a NYT Bestseller! - Thu, 16 Jun 2016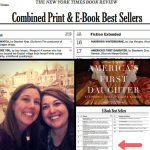 We are beyond thrilled and grateful to share that America's First Daughter hit the New York Times and USA Today bestseller lists today! You made this happen for us and THANK YOU does not begin to express the depth of our gratitude. We appreciate your support for us and this book so much! Thank you!  
America's First Daughter in its 7th Printing - Sun, 05 Jun 2016
Laura and I have been honored and amazed as readers across the country continue to devour America's First Daughter. This week marked our seventh printing in twelve weeks, and we're so proud. We're also very grateful, readers! Without you, we couldn't do what we do. And your reviews and notes of encouragement always help me […]
America's First Daughter is an HNS Editor's Choice - Sun, 28 Feb 2016
Laura and I are delighted that our novel on Thomas Jefferson's daughter was an editor's choice in the Historical Novel Society's reviews.