Latest News
Still time to enter the Booksweeps Historical Novel Giveaway + Kindle Fire - Mon, 27 Feb 2017
You still have twelve hours to enter to win +45 historical novels and a Kindle Fire! I want one of you to win win win. So go go go. Just click the pic.
My New Release: Songs of Blood and Gold - Mon, 20 Feb 2017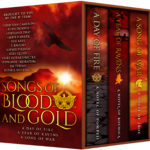 The H-Team presents… Twelve bestselling historical authors bring to life to the glory of the ancient world in three novels spanning golden Greece to blood-soaked Rome: SONGS OF BLOOD AND GOLD A DAY OF FIRE (Authored by: Stephanie Dray, Ben Kane, E. Knight, Sophie Perinot, Kate Quinn, Vicky Alvear Shecter) Pompeii: a lively resort […]
Events
2017
June 22-24 ~ Historical Novel Society Conference, Portland Oregon. Check Schedule for Appearances.
June 25 ~ Historical Fiction Panel:30PM, Multnomah Co. Library, E. Portland Branch
Portland, OR

June 26 ~ Talk & Signing, 7PM, King County Public Library, Vashon, WA
June 28 ~ Talk & Signing, 6PM, Book Passage Bookstore & Cafe, San Francisco, CA
November 5 ~ Lady Jane's Salon, Lancaster, PA, 1-4pm (with Laura Kamoie)
2018
April 14 ~ Anne Arundel Daughters of the American Revolution, MD 10am
Previous
May 20017 ~ Featured Presenter, Gaithersburg Book Festival, 10am-6pm (with Laura Kamoie)
May 18017 ~ Girls' Night Out Signing, Turn the Pages Bookstore, Boonsboro, MD, 6-9pm (with Laura Kamoie)
May 16017 ~ Talk and signing, Fort Severn DAR Chapter, Historic  Benson Hammond House at BWI Airport, 6:30pm (with Laura Kamoie)
May 10017 ~ Naval Academy Spouses' and Civilians' Club, Annapolis, MD (with Laura Kamoie)
April 19017  ~ Talk and signing, Historical Annapolis, Annapolis, MD, 6pm ~ More Information (with Laura Kamoie)
April 12017 ~ Book Club, Glen Burnie, MD, 7pm (with Laura Kamoie)
January 10 2017 ~ Bowie, MD chapter of the DAR, Historic Belair Museum, 7:30pm (with Laura Kamoie)
November 9 2016 ~ Book Review Club, Tippecanoe Country Club, Canfield OH 11pm-2pm (with Laura Kamoie)
November 11 2016 ~ Litchfield Books, at Ocean One, 11421 Ocean Highway, Pawleys Island, SC 29585, 11am-2pm (with Laura Kamoie)
November 12 2016 ~ Book Signing, BOOKMARK20 First ST, Neptune Beach, FL 32266, 7pm (with Laura Kamoie and Steve Berry)
November 14 2016 ~ Margaret Mitchell House, 979 Crescent Avenue NE, Atlanta, GA 30309 at 7pm (with Laura Kamoie)
November 15 2016 ~ Palm Beach County Library System: WXEL-TV appearance 1:30pm-4pm (with Laura Kamoie)
November 16 2016 ~ West Boca branch library engagement 2-3pm (with Laura Kamoie)
November 19 2016 ~ Miami Book Fair, Miami Dade College, Room 8201 (Building 8nd Floor) 300 NE Second Ave., Miami, Fl 33132 at 3-4pm (with Laura Kamoie)