Presentations Stephanie Gives
This is not an exhaustive list; presentations can be tailored to a specific audience.
Presentation: Thomas Jefferson as a Father - Fri, 06 Jan 2017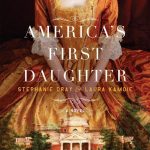 Given by Stephanie Dray, or jointly by Stephanie and her co-author Laura Kamoie, this talk focuses on how Thomas Jefferson evolved not as the Founding Father we know him to be, but as an actual father. Both to his eldest daughter, Martha "Patsy" Jefferson Randolph, as well as to the children he is believed to have fathered […]
Presentation: Bad Girls of the Ancient World - Mon, 22 Aug 2011

Stephanie discusses the most vilified women in history and the role mythology played in their image, then and now.
Presentation: Love, Monsters & Mythology - Tue, 08 Feb 2011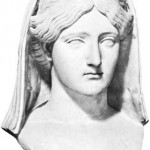 This workshop is for writers, and teaches how to personify the conflict in the book. The handout for it is here. It's worth looking at for the pretty pictures.
Media Appearances, Interviews and Talks
My Radio Interview about Song of the Nile on the Total Education Network - Thu, 06 Aug 2015
Interview with Stephanie Dray by Total Education Network on Mixcloud
Stephanie Dray Does Not Write Romance, But… - Thu, 06 Aug 2015
Her alter-ego does, and she was invited to speak at Smith College on a panel about it, as well as historical fiction. I loved this interview with these brilliant women, which touch upon romance as a sub-genre of historical fiction, and my commentary on rotting shellfish. https://www.youtube.com/watch?v=H5TksiT0t1U&feature=share
Interviewed at Unabridged Chick as a Conference Panelist - Sat, 11 May 2013
I always enjoy talking to Audra, who is one of the best reviewers in the historical fiction universe. I hope you'll enjoy reading us chat!
I Discuss Cleopatra Selene with Chick History - Tue, 21 Jun 2011
This isn't your typical promo interview. This is an NPR-style in-depth discussion of the life of Cleopatra Selene and Juba. Other than my hideous mispronunciations and my niggling fear that I wasn't quite precise enough in some of my answers, I think it went extremely well and that even people who have read the novels will […]
Articles about Stephanie
Fiction writer aiming for gold with 'Song of the Nile' - Thu, 12 Jul 2012
Great feature article on me and my work in the Baltimore Sun, penned by Sharon Rydell, Sbrydell13@aol.com. Thanks Sharon! Great things are happening in the life of Dray, who has been nominated by the Romance Writers of America for a RITA award, the highest awards accorded in the romance genre. "Song of the Nile," her second […]
RT Gives Me Some Love! - Wed, 20 Apr 2011
I'm featured in June's issue of Romantic Times Book Reviews as one of 8 authors "on target for bestsellerdom." I wish! 😉 Luv Ya Right Back, RT! (Click the image to read the article.)
A Prophet in My Own Land… - Mon, 13 Dec 2010
Today I had the good fortune of being featured in two hometown publications–the first, being the Greece Post. I grew up in Greece New York and most of my family still lives there. They will all be ten thousand times more excited to see me show up in the paper that someone throws on their […]
Listen to Stephanie talk about the lost world of Cleopatra Selene