Dear Men:
As someone who writes about Augustan Age Rome, I spend a lot of time thinking about the lives of women in the ancient world. While Cleopatra was certainly not an overt activist on behalf of her gender, she was one of a long line of politically active women and she earned a rightful place as a trailblazer in the realm of women's emancipation.
That she dared to assert herself into a political world dominated by men was, ultimately, her ruin. She was painted as a harlot, a seductress, and a betraying femme fatale. She was used as a justification for a Roman civil war. Her ideas were mocked, her son was murdered, and ultimately she was forced to suicide.
We like to think that a lot has changed in the more than 2000 years since Cleopatra's death, but when I read news stories like this one about political commentators calling women sluts and prostitutes, it's clear that we certainly haven't come far enough. My aim is not to discuss the underlying political issue, upon which reasonable people might disagree, but to address the rampant misogyny reasserting itself in our culture.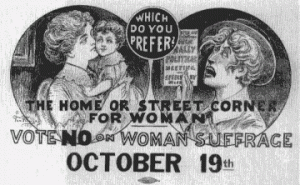 The controversy apparently began when a young law student testified to congressional members about how her friend suffered from ovarian cysts because she could not afford the birth control pills to treat her symptoms. Almost nothing in this woman's testimony had to do with sex. Even less of it had anything to do with her personally. And yet, in order to discredit her ideas, the criticisms immediately became very personal and utterly misogynistic.
Not only did a political commentator call her a slut and a prostitute, but he also invited her to post videos of her intimate sexual acts for the enjoyment of himself and his audience.
Calling a woman a slut or a prostitute in order to silence or marginalize her is nothing new. It has been used against women for thousands of years–and well into recent history, against women who dared to believe that they had a right to vote. The gender discrimination inherent in such rhetoric becomes obvious when you realize that men's political opinions are never invalidated by means of such slurs.
When I think of all the young girls who read my novels, I think of young women who have a right to expect to be treated with the same respect and dignity as men. I think of young women who ought not grow up in a world afraid to take the stage in matters of public policy for fear that they will have their names dragged through the mud with sexually charged hate speech. They should not have to fear that they will face being shamed simply because they have ovaries and opinions about them.
And because I feel as if I have a responsibility to these young women, I cannot and will not be silent while this kind of rhetoric is blithely re-introduced into the public sphere. I ask you not to be silent either, because silence is complicity.
People who use these tactics deserve public opprobrium. Such rhetoric should be costly and I believe women will make sure that it is. But if you're a man, this concerns you too. Even if you don't have daughters, you might have a wife, or a mother. If you love these women, please don't brush off remarks like this as simply tasteless entertainment; make sure that people who use this kind of tactic pay a heavy social price.
In short, be a hero.
Sincerely,
Stephanie Dray