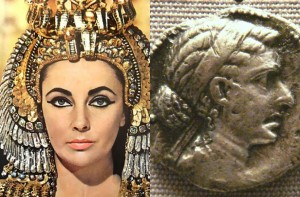 There are two prevailing beliefs about Cleopatra. The first is that she was a captivating beauty, so dazzling that she was able to snare two of the world's most powerful men into her bed. The second is that she was an ugly, hook-nosed hag.
So which is the truth?
Despite, or perhaps because of, the spate of iconic portrayals of the Queen of the Nile as a ravishing seductress, Cleopatra's detractors point to the coins that were issued during her reign as evidence of her hideous appearance. There were a number of coins issued during her reign and few of them are even remotely flattering. In fact, the one I've included in this post isn't even the ugliest. But it must be noted that coins were intended to convey power and were a stylized art form. Mark Antony was said to be quite handsome and Augustus was described as a young Apollo and yet, they don't always fare very well on all their coins either.
A more accurate way to gauge Cleopatra's comeliness is to check out her marble busts, which were carved in a time of Roman dominance where realism trumped Hellenistic idealism in artistic renderings.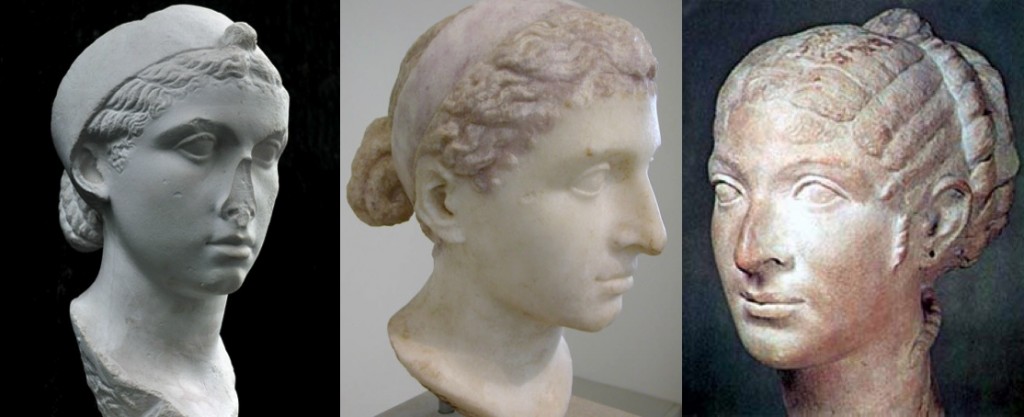 The marble busts of Cleopatra do not reveal a ravishing beauty, but neither do they portray a hook-nosed hag. What we see is a reasonably attractive woman whose comeliness must shine through even in white marble without the color of a blush upon her cheek.
What about the literary evidence? Ancient historian Cassius Dio recounts that Cleopatra was "a woman of surpassing beauty," and Plutarch tells us that Cleopatra was "a woman who was haughty and astonishingly proud in the matter of beauty." However, a passage from Plutarch is often latched onto as evidence that the queen was anything but. In Plutarch's Life of Antony, he writes,
"For her beauty, as we are told, was in itself not altogether incomparable, nor such as to strike those who saw her; but converse with her had an irresistible charm, and her presence, combined with the persuasiveness of her discourse and the character which was somehow diffused about her behaviour towards others, had something stimulating about it. There was sweetness also in the tones of her voice; and her tongue, like an instrument of many strings, she could readily turn to whatever language she pleased…"
This passage is often taken to support the argument that Cleopatra had the face of a troll, but it seems to me that Plutarch is giving us an honest assessment. Her beauty may not have been incomparable, but she did have some.
If you enjoyed this article, I hope you'll enjoy my books about the Ptolemies, starting with Lily of the Nile, a novel about Cleopatra's Daughter.
And if you're just wanting to check out my work, I offer a free ebook to my subscribers below.